I have several cards to download today!
SCS card sketch 9-12-07
The first one is for the
SCS card sketch challenge from 9-12-07
.
This is made with the
Stampin' Up
designer paper 'Creepy Crawly' and a leftover piece of 'smashed' paper in another challenge. I took Chocolate chip paper, used the leaves in Watercolor Garden and stamped a background using chocolate chip ink. I then put it through my cuddlebug to give it dimension. I layered the Creepy Crawly DP on pumpkin pie cardstock and put an orange organdy ribbon between the two panels that I bought from
Ribbons and Bows, Oh My
online. The main image is layered on chocolate chip card stock and the 'Happy Thanksgiving' from the set All-Year Cheer III is stamped on with chocolate chip ink. I hope you enjoyed!
Recipe:
CS: Chocolate Chip, Pumpkin Pie, Glossy white, Creepy Crawly DP, papertrey white for cardbase.
Ink: (Smashing: pumpkin pie, chocolate chip, summer sun, garden green), Chocolate chip
Stamps: All-year cheer, Watercolor Garden
Technique: Smashing, cuddlebug
Happy Grandparents Day!
This card I made for my grandmother for Grandparents day. She really liked it even though it was a pretty quick creation.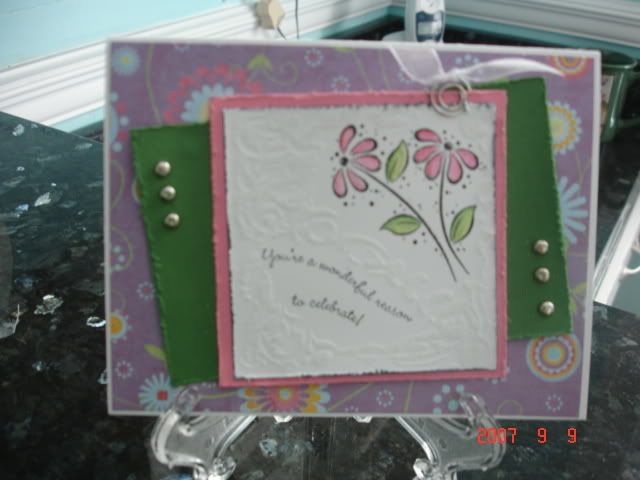 I used a designer paper that I bought from Michael's, Stampin' Ups Garden Green and Regal Rose, Papertrey white. The stamps are
The Angel Company's
Oopsie Daisy colored in with watercolor pencils and Stampin' Up Curvy Verses that says "You are a wonderful reason to celebrate!" I then scoured the edges of the green and white for a little texture added craft glue and glitter throughout the main image for a little pizazze. A few brads, silver clip and white Stampin Up organdy ribbon finish off this card. I hope you enjoyed!
Recipe:

CS: Garden Green, Regal Rose, Papertrey white, Michael's DP
Ink: Basic Black
Stamps: TAC Oopsie Daisy, SU Curvy Verses
Technique: watercolor pencils